Lead lined cabinets are oten utilized across a wide variety of industries including hospitals, nuclear medicine and the nuclear power industry. Some of the applications of shielded cabinets are for storing radioisotopes, radioactive waste, and providing shielding while also operating x-ray tubes and protecting sensitive electronic devices from external radiation damage.
MarShield's shielded cabinets are custom manufactured, in steel or in stainless steel, and lined with 1/32" to 2" or thicker lead. For shielding thicknesses less than 5/8"; lead sheets are layered, while over 5/8", the lead is poured into the cabinet walls. Both methods provide seamless radiation protection.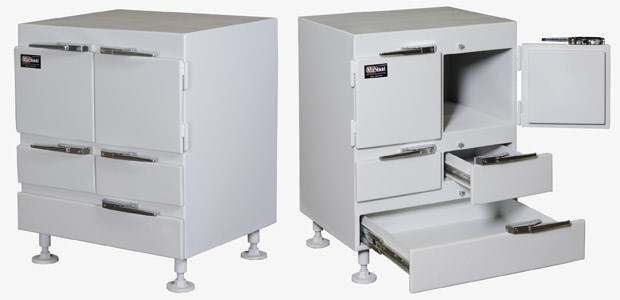 Features and Designs [h2]
MarShield has a series of standard designs of cabinets that show features and general design of cabinets. Most cabinets are custom designed and built to best serve the end-use of the cabinets.
Doors, Drawers and Shielded Openings
A shielded cabinet should provide complete radiation protection while allowing for easy access to the interior. All MarShield cabinet drawers and doors are designed to prevent radiation leakage by overlapping joints and seams. Radiation generally travels in straight lines, so by including steps and interlocking doors, this reduces the risk of radiation leakage from these openings. Shielded lids and openings can be provided at the top of the cabinet to allow for waste disposal of radioactive material.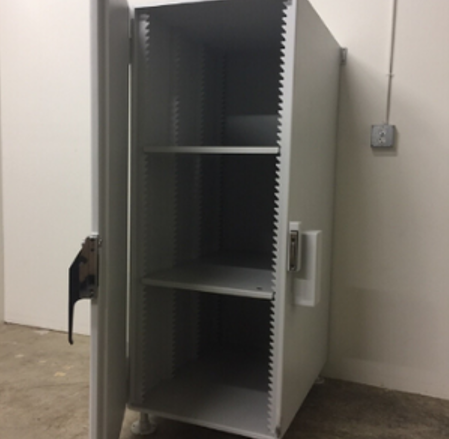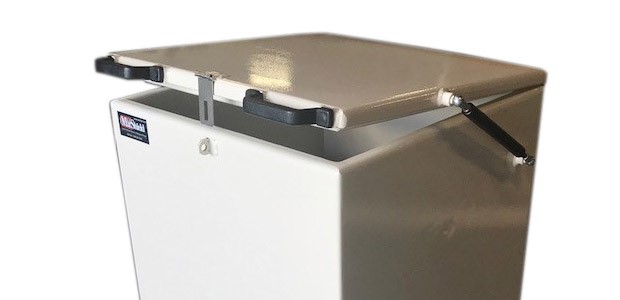 Alternative Shielding
MarShield can off lead-free NanotekTM to protect against gamma radiation or if the cabinet is required to shield against neutron radiation, borated polyethylene can be used as shielding.
Finish and Countertops
All MarShield cabinets come with a beige spray epoxy enamel or colour of the customers' choosing. Additionally, if desired, there is the option of a 304 stainless steel countertop, that includes a spill-proof lip around the edge of the countertop and a backsplash.
Considerations
Some considerations when designing a cabinet are:
Required inside or outside dimensions: Cabinets are built based on the customers' needs so the space the cabinet needs to fit into, or the required interior space needs to be known.
Shielding thickness and type of shielding required: This will determine the thickness of the cabinet walls and the method used to build the walls.
Number of shelves required in the cabinet or additional areas needed for storage.
If the doors need to be locking and the location of hinges and handles.
MarShield custom cabinets are designed to meet the needs of the user. With a variety of features offered; MarShield can put together for the perfect cabinet suited for the job.
If you have any questions on how a shielded cabinet can be best designed for your purposes; you can visit the MarShield website or contact MarShield directly, and we will help you find the best radiation shielding solution for you.