MarShield was approached by Lawrence Livermore Laboratory to design and manufacture a custom cabinet so they could store their sources underneath. This particular cabinet also required an L-block shield and cave on top so they could prepare their unit doses of high-energy sources. The entire cabinet and L-block shield and cave on top would have to be completely covered to avoid lead exposure. The client also required the entire cabinet to be rated for seismic activity.
The Lawrence Livermore Laboratory is a federally funded research and development center founded by the University of California in 1952. For the last 60 years, the laboratory has applied science and technology to make the world a safer place. Livermore's defining responsibility is ensuring the safety, security, and reliability of the nation's nuclear deterrent. Its science and engineering have been applied to achieve breakthroughs for counterterrorism and non-proliferation, defence and intelligence, energy, and environmental security.
The team at MarShield decided to construct the cabinet using 304 Grade Stainless Steel with a high polished surface allowing it to meet the requirements for cleaning and sanitization clean room qualifications. The cabinet will be delivered to the client fully assembled and ready to go; other than the glass that needs to be put into place (this is done to ensure proper shipping and handling of the glass).
The design phase was initiated with a plan to have the cave and L-block permanently attached to the cabinet so it could be rated for seismic activity. At this point, anchors were also added to the cabinet so it could be securely bolted to the ground.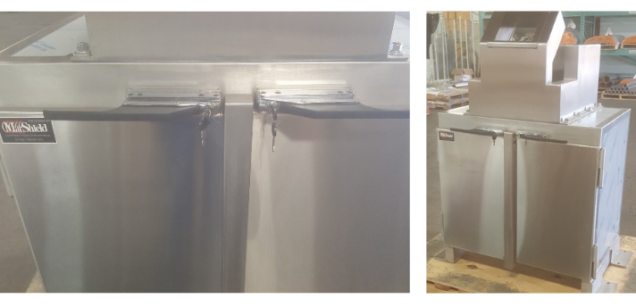 L-Block Workstation Design
The frame of the cabinet is constructed using 11GA (0.125") minimum thickness stainless sheet metal and square tubing. The cabinet enclosure, including doors, are completely lined with 3/8" thick lead sheet with 11GA (min) thick stainless steel sheet on both sides of the lead.
To avoid direct shine through, the doors would have a stepped construction. The doors are lockable and the attachment on heavy-duty hinges, handles (low profile), and lock to avoid direct shine through.
The L-block and cave areas use 2.5" thick (min) lead with 11GA (min) stainless steel sheet on all sides. This is a single pour unit to ensure thorough radiation shielding.
The L-block glass is Schott RS520 with 8" x 8" x 4" lead radiation glass that is covered on both sides by 0.125" thick clear lexan sheets.
The cabinet has seismic tie down angles on the sides, or the front and back. The unit is compatible with a floor jack and fork lift from the bottom. The base is welded in accordance with ANSI/AWA D1.1 and D10.4 (for stainless).
The cabinet is 36" tall x 36" wide x 24" deep with a weight of 5,000 lbs. The L-block shield and cave have an effective working space of 18" x 14".
This custom cabinet will be a centrepiece at the Lawrence Livermore Laboratory and with MarShield's construction; will last for generations of technologists!
MarShield Custom Radiation Shielding Products provides radiation shielding solutions for the medical and nuclear industries and is a division of Mars Metal Company. Contact us today to discuss your unique shielding needs.
Source Destination:
https://marshield.com/designing-and-manufacturing-a-custom-cabinet-with-l-block-shield-and-cave/