Union Process Inc. has earned an international reputation for its "attritors", a unique style of grinding equipment, and available in Canada from Firing Industries. One potent line is the HSA series of dry continuous attritors. While Union Process makes dry grinding attritors that work in batch or continuous mode; the HSA group is generally recommended for continuous operation. These attritors work particularly well for fibrous and polymer types of materials.
With a patented design concept
The HSA series by Union Process features a patented design concept that includes a unique grinding tank internal configuration, which enables higher shaft speeds, finer grinding, and continuous operation with side discharge. A series of specially shaped agitating arms and diverter discs is mounted along the longitudinal axis of the agitator shaft. This engineering design allows the user to employ smaller grinding media, operate at a higher shaft speed, and raise the residence time of the material to be processed to ensure a finer grind.
A versatile series of dry continuous attritors, the HSA group is suitable for a broad range of applications. Among the most common are ceramic powders, glass frits, metal powders, mechanical alloying, metal oxides fibres and cellulose, food products, ferrite, pigments, minerals, coal and coke, graphite, plastics, rubbers, and chemicals.
Just some of the features and options of these dry continuous attritors include the following:
a fully integrated system;
stainless steel grinding chamber;
high-speed, high-volume production;
an ammeter;
fully jacketed grinding tank temperature control;
optional T.E.F.C. or explosion-proof electricals;
efficient side discharge; and
exceptionally fine grinding.
In addition, users can equip this series with metering pumps to aid grinding further.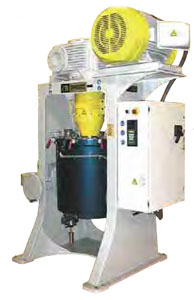 To operate this instrument, the user charges the material into the mill at the top; the attritor discharges it out the bottom side with centrifugal force. The HSA series is recommended when the operator desires micron-size end product after feeding smaller particle sizes, typically 40 mesh, into the machine.
Firing Industries supplies five attritors in the HSA series, ranging from 20 to 150 in horsepower and 10.3 to 85 gallons in gross tank volume.
To learn more, contact Firing Industries' application-sales engineers at ddubuc@firing.com or (877) 688-0974.
Source Destination:
http://www.firing.com/latest-news/