Firing Industries is Canada's source for PVS Process Equipment products
Many manufacturers of industrial processing solutions put their trust in the hands of Firing Industries to distribute their products in Canada. A recent addition to this family is PVS Processing Equipment Inc. Known for its innovations in direct-from-bag unloading, PVS offers an impressive, diverse selection of manufacturing devices.
For more than 30 years, PVS has specialized in powder bulk engineering and manufacturing in its wide range of industrial processing solutions.
A solutions-driven supplier of equipment
Based in Buffalo, NY, PVS was established in 1988 with a mission to serve customers as a solutions-driven supplier of bulk material-handling equipment, all of it custom-engineered to transport, discharge, fill, weigh, batch, blend, or feed a broad range of powder and bulk solid materials. The lineup includes both standalone components and fully integrated systems, using innovative design, state-of-the-art machinery, and top client service. With the help of Firing Industries, PVS is the go-to source in Canada for conveying, air-filtration, batch-weighing, and filling systems.
To meet all of the needs of customers, PVS employs a team of quality-minded, result-oriented employees who work closely with the manufacturing world to see what solutions are in demand. This includes in-house mechanical and electrical design teams who use the latest software available for three-dimensional design to offer a seamless package, no matter the type, size, or scope of the project. Factory-trained technicians ensure optimal performance for every piece of equipment.
PVS is particularly an innovator in the field of direct-from-bag unloading among its industrial processing solutions. The 14v series has a unique design that automatically draws material from the top of a bag. The carriage stretches the bag, which forces material to the centre, promoting full, continuous discharge. Each unit has a small footprint, which allows workers to use it in tight spaces or areas with low headroom. Touchscreen control allows easy operation changes and adjustment to different system settings.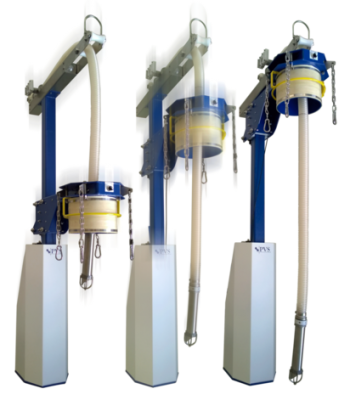 Firing Industries is Canada's top source for many in-demand industrial products –
To learn more about the PVS Process Equipment products; contact Firing Industries' application-sales engineers at ddubuc@firing.com or (877) 688-0974.
Source Destination:
http://www.firing.com/firing-industries-canadas-source-pvs-process-equipment-products/