Electrical control unit by piab enables a variety of functions
Posted on January 14, 2019
One of the many great manufacturers with whom Firing Industriespartners is piab, which produces the famous piFLOW vacuum conveyor for food processing. Last year, piab expanded its inventory with the first version of the ECU-10, an electrical control unit to go with this conveyor.
With the ECU-10, piab gives customers the option of enhancing piFLOW conveyors with microcomputer-based electric controls.
Supporting basic conveying functionality
This electrical control unit simplifies the addition of extra control functions in industrial conveying systems, expanding the abilities of piFLOW units. Not only does it support basic conveying functionality; it also enables pipe emptying and the use of additional level detectors at feed as well as discharge points.
Because electric controls are easier to implement than pneumatic ones are, the ECU-10 allows users to raise the number of functions they control in piab conveying systems. They can introduce more advanced filter maintenance, for example, which allows for multiple filter-cleaning cycles for users to ensure that they keep the filters clean and unrestricted at all times.
Another way that businesses can use this electrical control unit is for slow-speed conveyance of fragile items. The user can integrate the electric piGENTLE functionality in the valve unit that goes with the ECU-10 when fragile materials need to be conveyed. Operators can also connect the unit to an overarching programmable logic controller system, or PLC system, which controls the whole manufacturing process in a customer facility.
piab can custom-design piFLOW vacuum conveyors to maximize productivity for a wide variety of applications, and the ECU-10 helps to increase a conveyor's configurability even more. Users can choose from several different languages from the unit's full menu, and the ECU-10 also has a user-friendly touchscreen that allows selection of settings for such functions as emptying times, suction times, or fluidization. Other unique benefits:
Resettable counters;
Suction and discharge time of up to one minute;
Software-supported fluidization; and
Electrically and software-controlled.
To learn more, contact Firing Industries' application-sales engineers at ddubuc@firing.com or (877) 688-0974.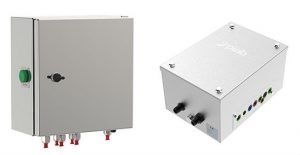 Source Destination:
http://www.firing.com/electrical-control-unit-piab-enables-variety-functions/